L'uccello dalle piume di cristallo
A giallo, made by the man who - according to some - is the finest director within the genre, Dario Argento. The film was his directional debut and its success at the box-office, both at home and abroad, catapulted his name to the top.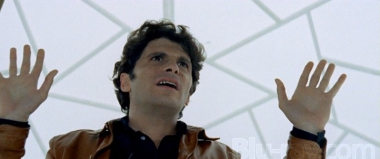 An American author, Sam Dalmas, witnesses a murder attempt by a mysterious black-gloved assailant dressed in a raincoat. The incident takes place in the hall of an art gallery, an while trying to get to the woman under attack, Dalmas is trapped by the glass doors and can only watch as the killer escapes into the interior of the building. Dalmas is told that the assault was most probably the work of a serial killer who has been killing young women across the city lately. Since he is suffering from a writer's block and the investigations by police captain Morosini are heading for a deadlock, Dalmas decides to investigate the case himself, putting himself and his beautiful girlfriend in great danger ...
Although there are a few hints at horror, this is rather a suspense yarn in the Hitchcock tradition, relying more on tension-filled set pieces than the strong shock effects of most gialli. The opening scene, with the mechanically operated glass doors is a nice reference to Jacques Tati's depiction of ultra-modern, anonymous architecture in Play Time (1967). There's also an interesting story-element featuring an eccentric painter who lives in a secluded house and (I'm not making this up) eats cats -. His paintings are Bruegel with (more than just) a pinch of Caravaggio. All very interesting, but does it add up to something special?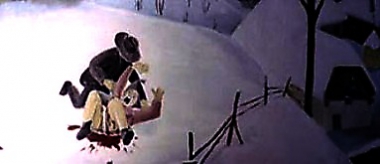 Breugel, with (more than just) a pinch of Caravaggio


In the case of The Bird with the Crystal Plumage the answer to this question may depend on your appreciation of genre movies in general, and gialli in particular. This is a near-perfect showcase of Argento's qualities, well-made, beautifully shot, but it's also a bit of an empty exercise. None of the characters is fleshed out, they remain puppets in a game played by a skilful, but very manipulative director. There's a twist-double-twist ending plus a pseudo-scientific explanation by a psychiatrist that doesn't seem to make any sense. But that's all part of the giallo show.


* Voor een Nederlandstalige bespreking van deze film, zie hier




| | | | | |
| --- | --- | --- | --- | --- |
| FX | Acteren | Sfeer | Originaliteit | Totaal |
| 7 | 6 | 7.5 | 6.5 | 7 |
Aanraders in overeenkomstige genres, volgens Boobytrap:
- La Femme Infidèle (The Unfaithful Wife) (thriller / drama : 8)
- Que la bête meure (thriller / drama : 8)
- Desu nôto (Death Note) (thriller / fantasy : 7.5)
- Obsession (thriller / romantiek : 7.5)
- Schemer (thriller : 7.5)

| | |
| --- | --- |
| Hoe beoordeelt Boobytrap categorie thriller eigenlijk? | |

Hoe beoordelen bezoekers deze recensie?