Una farfalla con le ali insanguinate
The title of this giallo most probably is a reference to Dario Argento's genre classic, L'Uccello dalle Piume di Cristallo. Instead of a bird with a crystal plumage, we get a butterfly with bloodstained wings. They know how to make up wonderful film titles, those Italians.

Apart from the title, this is not your usual giallo. Most films in this genre are blown-up versions of thrillers in Hitchcock style, with blood flowing like wine. This movie is rather restrained and with its careful character sketches and sarcastic comments on the discrete charm of bourgeois life, it seems more in line (no not with Buñuel) with French master director Claude Chabrol.

On a rainy day a young French girl is murdered in a park in the town of Bergamo (north-east of Milan). A few days later a well-known sports journalist is arrested. The victim was a friend of his daughter and it is suggested that the older man and the young girl had an affair. In spite of the efforts of his lawyer – a personal friend – the man is sentenced to life imprisonment. The lawyer also has an affair with the man's wife, and is therefore not unhappy with the outcome. It all seems settled, but then two new murders are committed, under the same circumstances, in the same park …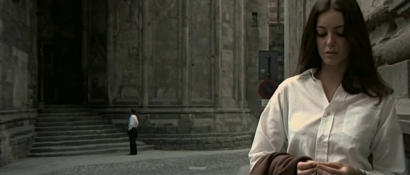 The film was directed – with a firm hand and a keen eye for detail – by Duccio Tessari, the director of the Ringo movies. His daughter Federica can be glimpsed as one of the two girls who discover the first corpse. Tessari also co-wrote the intricate script, notable for the abrupt flashes of the events leading to the crime. With the exception of Berger (I never was a fan of his acting style) the actors are all in fine form, and nearly all women in the film are breathtakingly beautiful (who would oppose to Carole André, Wendy D'Olive, and Ida Galli in one film? Be sure to google them all, guys). Excellent use has been made of the town of Bergamo an its hilltop medieval centre surrounded by defensive walls. Unfortunately – and this is often the case with gialli – the movie has a weak finale. Somehow these movies inevitably fail to come up with a satisfactory ending. In this case there's a ridiculous twist which turns the intelligent psychological tale into a banal revenge movie.



| | | | | |
| --- | --- | --- | --- | --- |
| FX | Acteren | Sfeer | Originaliteit | Totaal |
| 6.5 | 7 | 7.5 | 7 | 7 |
Aanraders in overeenkomstige genres, volgens Boobytrap:
- La Femme Infidèle (The Unfaithful Wife) (thriller / drama : 8)
- Que la bête meure (thriller / drama : 8)
- Desu nôto (Death Note) (thriller / fantasy : 7.5)
- Obsession (thriller / romantiek : 7.5)
- Schemer (thriller : 7.5)

| | |
| --- | --- |
| Hoe beoordeelt Boobytrap categorie thriller eigenlijk? | |

Hoe beoordelen bezoekers deze recensie?