Cassandra's Dream
Like Match Point, made three years earlier and also set in London, Cassandra's Dream is a thriller about crime and punishment. But there's no light at the end of the tunnel this time, there's no room for a lucky twist introducing a (more or less) happy ending. Cassandra's Dream is Woody Allen's darkest and most disturbing movie to date, a Faustian nightmare. A crime is a crime, murder is irreversible, and there's no redemption in punishment.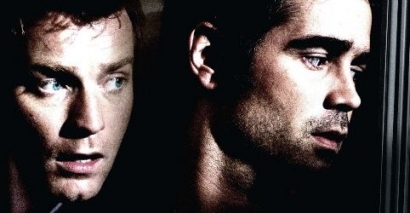 Ewin McGregor and Colin Farrell play two Cockney brothers, Ian and Terry. Basically they're small-time losers. Ian (McGregor) is a would-be businessman with a lot of ideas but no money to realize them, and Terry (Farrell) has a serious gambling problem: when he thinks dog races aren't profitable enough, he turns to illegal poker … with disastrous consequences. Ian needs £ 90.000 to carry out his business plans, Terry needs £ 90.000 to pay off his debts. Traditionally, the members of the family turn to uncle Harold, who has made a fortune abroad. Harold wants to help them out, but has some troubles of his own. Now if his nephews would only commit a little murder for him …
Initially both brothers strongly object to uncle Harold's plans, but Ian has second thoughts: he has fallen in love with a capricious (and ambitious) young actress, who is way beyond his league. He drives her around in borrowed cars, bragging about his hotels in California and his uncle Harold, who knows everybody in the film business. To keep up the appearances he needs a lot of money, quick.
Once they've committed their crime – once they've sold their soul to the devil – Ian and Terry are doomed. London, bright and sunny in Match Point, has become a gloomy place, the sky is as cloudy as Colin Farrell's sour face. Most critics didn't like Cassandra's Dream, at least not as much as they liked Match Point. We accept Woody as the world's biggest hypochondriac, but we ask him to be funny, and optimistic in the end. Or at least not too pessimistic. In Cassandra's Dream we get the odd feeling that Woody is desperately trying not to be funny: as a result his lines fail to sparkle; they're well-written, but something's lacking.
Basically Cassandra's Dream is a two-men-show. Both McGregor and Farrell are marvelous as the troubled couple of brothers, but some of the other characters are under-developed. Tom Wilkinson is a delight as uncle Harold, a Mephistofeles who leads his two nephews to the downhill path to perdition, but he doesn't have enough screen time to show what he's capable of, and Woody could also have used the talents of Sally Hawkins (who plays Farrel's worried spouse) to better effect. Haley Atwell, who gets more screen time as MacGregor's girlfriend, is not a great actress. This is not Woody's best movie, but it was good enough for me. And people who usually don't fancy his movies, might like it.

| | | | | |
| --- | --- | --- | --- | --- |
| FX | Acteren | Sfeer | Originaliteit | Totaal |
| 7 | 8 | 7 | 7 | 7 |
Aanraders in overeenkomstige genres, volgens Boobytrap:
- La Femme Infidèle (The Unfaithful Wife) (thriller / drama : 8)
- Que la bête meure (thriller / drama : 8)
- Desu nôto (Death Note) (thriller / fantasy : 7.5)
- Obsession (thriller / romantiek : 7.5)
- Schemer (thriller : 7.5)

| | |
| --- | --- |
| Hoe beoordeelt Boobytrap categorie thriller eigenlijk? | |

Hoe beoordelen bezoekers deze recensie?