Il Grande Attacco (The Biggest Battle)
For Giuliana

Unlike most war movies ('Macaroni Combat') from the golden years of Italian genre cinema, which were relatively small affairs, Il Grande Attacco is an ambitious, big-budget production. It's an ensemble movie with multiple characters and points of view.
During the 1938 Olympics, a German officer and an American general become friends and seal the friendship with the exchange of personal presents, two medals with the respective inscriptions 'In God we trust' and 'Gott mit Uns'. Both their lives will be affected by the war: the American general loses one of his sons in battle while a second son is sent to North-Africa. The German officer is married to a Jewish woman and won't be able to protect her because he is also sent to Africa, to fight under general Rommel. Of course the paths of the general's son and the German officer will cross in the final moments of the movie. This story is echoed in a second storyline, which opposes a young and ambitious British officer to a dedicated Nazi officer.
The Biggest Battle is a good-looking, often spectacular war movie, but it lacks cohesion and a strong storyline. The script is no more than a series of scenes, showing events in the lives of the various people involved, both on the front and at home. We jump from Africa to Paris to London to Berlin to Los Angeles and back. In some versions a voice-over by no other than Orson Welles is added. The action scenes look good, but in a couple of scenes some stock material is used from other movies (notably La Battaglia di El Alamein and La Battaglia del Deserto, both produced by Mino Loy, who also produced this movie) and I also spotted a couple of miniature tanks in one protracted battle sequence.
Henry Fonda plays the American general (as you might have guessed) but otherwise the casting is a bit odd: Stacy Keach plays the 'good' German officer (the Nazi is played by Helmut Berger), Samantha Eggar portrays a German woman with a Jewish background, and good old Giuliano Gemma is in this movie not Mr. Colt from Arizona, but Captain Scott from London. For fans of Giuliano: his two daughters in the movie, are played by his real-life daughters.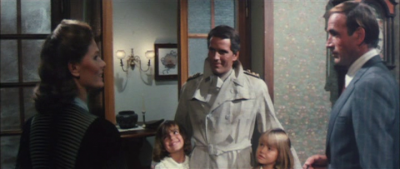 | | | | | |
| --- | --- | --- | --- | --- |
| FX | Acteren | Sfeer | Originaliteit | Totaal |
| 6 | 7 | 5 | 5 | 6 |
Aanraders in overeenkomstige genres, volgens Boobytrap:
- The Dirty Dozen (oorlog / actie : 8)
- The Guns of Navarone (oorlog / avontuur : 8)
- The Bridge on the River Kwai (oorlog : 8)
- Where Eagles Dare (oorlog / actie : 7.5)
- Pohwasogeuro (71 Into the Fire) (oorlog / drama : 7.5)

| | |
| --- | --- |
| Hoe beoordeelt Boobytrap categorie oorlog eigenlijk? | |

Hoe beoordelen bezoekers deze recensie?