One for the Money
She became a minor star and sex symbol thanks to the TV-series Grey's Anatomy, but so far Katharine Heigl's film career has been a bumpy ride. She got favorable comments (and a couple of nominations) for her performance in the romantic comedy Knocked Up, but she was also in the lowest grossing film in history, Zyzzyx Road (earning no more than $30). And she was in one of last year's biggest flops, One for the Money, based on the best-selling novel by Janet Evanovich.
Heigl is Stephanie Plum, the type of girl that can neither hold a man nor a job. Recently divorced, out of work, out of money, she desperately needs a well-paid job, quick, so she decides to do some bounty hunting. Bounty huntig? Yep. Her first target is, of all people, a former flame, the hunk of the block who took her virginity after a night out when she was 17, and never called her again. She then ran him over with her car and broke his legs in three different places. Now he is a corrupt policeman who jumped bail. Of course she still has feelings for him, and of course the case is far more complicated than it appeared to be.
You might have noticed that the comedy in this movie isn't very subtle. The Stephanie Plum novels aren't subtle either, but they're marked by a strong sense of self-mockery that is largely absent here. Heigl isn't a bad actress, but she's a bit too glossy to be the clumsy, good-for-nothing Stephanie. Still this adaptation isn't nearly as bad as most critics thought it was. It's not great, but it's good for a few laughs and if Heigl is miscast, most other choices are spot-on. Jason O'Mara is excellent as the man she's been waiting for (and now looking for) and there are nice cameos by comedienne Sherry Sheperd (as a street hooker 'strictly dickie'!) and 80-year old Debbie Reynolds.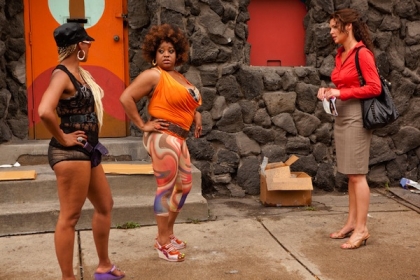 "Looking for a girl? We're strictly dickie here!"
| | | | | |
| --- | --- | --- | --- | --- |
| FX | Acteren | Sfeer | Originaliteit | Totaal |
| 7 | 7 | 6 | 4 | 6 |
Aanraders in overeenkomstige genres, volgens Boobytrap:
- Manhattan Murder Mystery (humor / thriller : 7)
- The Guard (humor / thriller : 7)
- 4.3.2.1. (humor / thriller : 7)
- The Silencers (humor / thriller : 6.5)
- Veronica Mars (thriller / humor : 6.5)

| | |
| --- | --- |
| Hoe beoordeelt Boobytrap categorie humor eigenlijk? | Hoe beoordeelt Boobytrap categorie thriller eigenlijk? |

Hoe beoordelen bezoekers deze recensie?